Here are some of the new and improved features of 15.2:
Raima to Raima Replication  
A high speed RDM to RDM replication API and utility,
Hot Backup
RDM 15.2 contains a pre-coded example of how to enable a hot backup of an RDM database.  
Enhanced Encryption 
In RDM 15.2, AES 256 bit encryption has been improved and further enhanced.  
Diagnostics
RDM 15.2 allows for more specific information to be obtained from the Raima sub- systems  
This paper will first take a look at a high-level view of time series before diving into specifics for RDM. Time series is a data model for data that is collected periodically over some time. The data will typically be indexed, listed, analyzed, and graphed. There are mainly two domains for time series, which we will cover in the following subsections.
RDM is a high-performance database management system that is optimized for operating systems commonly used within the embedded market. The database engine has been developed to fully utilize multi-core processors, run with minimal memory, and support both in-memory and on-disk storage. It provides a subset of the ANSI/ISO standard SQL that is suitable for running on a wide variety of computers and embedded operating systems that may have limited resources.
Raima's mission is to provide seamless dataflow in a Big Data, Internet Of Things and a M2M environment. This will enable our clients to collect, store, manage and move information fast, safe, secured and seamless. Raima will facilitate the use and flow of meaningful, valuable data in a system composed of all forms of computing processes and equipment, and be an essential ecosystem participant in the process of creating value out of data.
Raima Database Manager (RDM) v15.2 is an embeddable database management product that connects all types of devices from the edge of the cloud to enterprise databases completing the Internet of Things platform. Raima´s libraries, APIs, and utilities can be employed in countless combinations, assuming the responsibility for data collection, storage, management, and movement. Programmers using RDM v15.2 can focus on their specialty rather than worry about managing their data. Given the variety of computing needs, a "one shape fits all" product will quickly be pushed beyond its limits. This paper discusses RDM v15.2's different configurations and solutions built from those pieces into a number of configurations.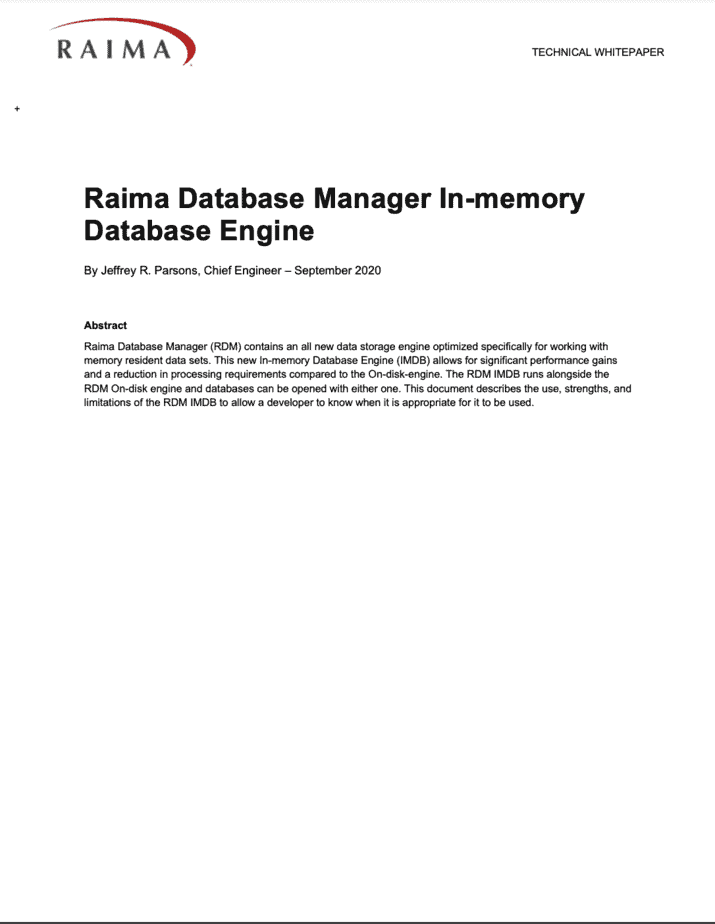 Raima Database Manager (RDM) contains an all new data storage engine optimized specifically for working with memory resident data sets. This new In-memory Database Engine (IMDB) allows for significant performance gains and a reduction in processing requirements compared to the On-disk-engine. The RDM IMDB runs alongside the RDM On-disk engine and databases can be opened with either one. This document describes the use, strengths, and limitations of the RDM IMDB to allow a developer to know when it is appropriate for it to be used.