When and why use Raima Database Manager?
Manage data confidently with Raima's feature-rich platform
No matter which industry you work in, your data management solution should boost performance, not compromise it. It should help you meet your data integrity requirements with confidence. Raima's leading database system gives you both performance and confidence in a cross-industry solution that meets the embedded/real-time and edge computing demands. Our feature-rich platform is based on a small footprint and delivers speed, reliability, and flexibility. Our support for high-performance applications is unmatched.
Raima's solutions already help clients worldwide leverage data's power in applications including industrial automation systems, aerospace and defense flight control systems, telecom routers and switches, financial trading systems, medical equipment, data backup solutions, IoT/IIoT devices, and others.
Meet industry challenges with Raima high-performance solutions
Use Raima's powerful database solution to meet and manage demands for real-time decision making, security and other critical industry factors and replicate historical data to the cloud for big data analytics and artificial intelligence. Easily embed our enterprise-caliber database within your application to collect, store, manage and move data in near-real time.
Raima provides the highest-functioning database for resource-constrained environments and supports in-memory, hybrid and persistent storage. Multiple APIs and configurations provide developers with a wide variety of powerful programming options and functionality, including hosting applications, processing and analytics close to their sources. You save resources and gain a competitive edge.
Leading companies in your vertical have embraced the Raima difference for more than 30 years.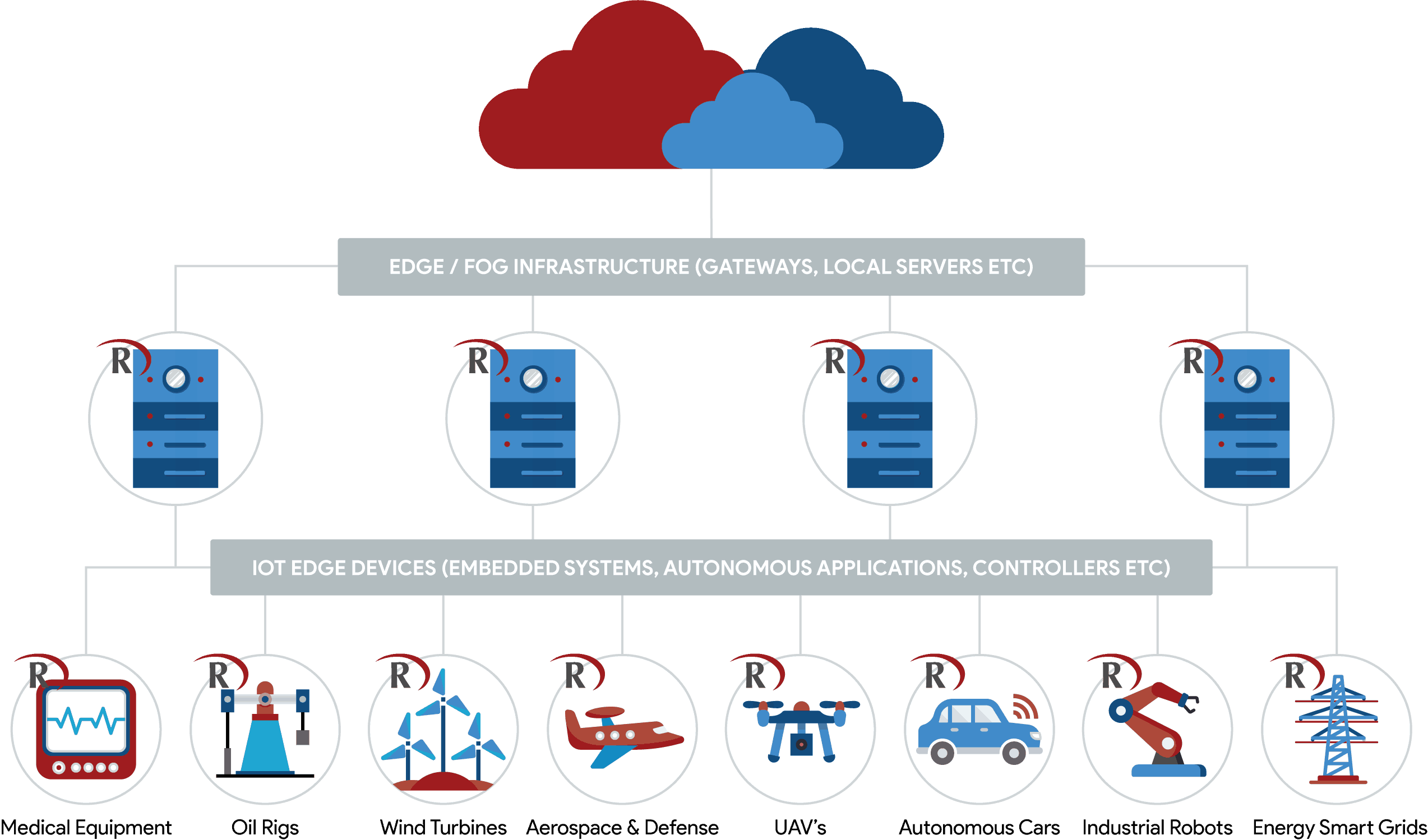 Fast Performance In-Memory, Hybrid or Persistent Storage
RDM designed from the ground up to take full advantage of memory as the storage medium. This makes it not only faster than disk-based DBMSs but also faster than competitors who added in-memory as an afterthought. Find performance benchmarks here.
 Platform Compatibility
Develop once, deploy anywhere. Through Raima´s file format, you can mix and match operating systems and hardware. RDM runs on a wide range of operating systems, including Windows, Linux, Apple, Android or RTOS: Windriver, GreenHills, QNX or Embedded Linux.
 High Availability
RDM supports local storage and data replication from an RDM database to another RDM database system, or to any other enterprise database vendor, Oracle or Microsoft SQL Server through SymmetricDS. Data can be collected on the device and replicated to an enterprise system for big data analytics and BI.
✔ Easy to Use
We focus on ease of use, providing out of the box project files for all the standard development environments. RDM is automated to manage database storage and essentially all the critical functions are self-managed and we support the OS and development languages you know.
Extended Flash Media Lifetime
RDM optimizes and minimizes the number of writes to the storage medium, prolonging the lifetime of the device. This means less maintenance is needed for the medium and less replacements over the lifetime of the application. Additionally, RDM performs better on these devices due to the optimizations it has.
 Reliability
Before the release of RDM, many tests and methods have been developed to ensure a robust and usable product. This is due to the stability and robustness requirements for a database being much more stringent than many other types of applications. Learn more about our testing.
 Embedded Systems and Real-time Application
Fully supports real-time system performance. RDM has been designed to meet the zero-administration requirements of an embedded application, there is no need for a database administrator. Learn more about RDM in embedded systems.
 Full Feature SQL Support
RDM provides developers with all the benefits SQL has to offer. Fully-featured and enhanced SQL support, including SQL PL, Stored Procedure, and Triggers. Learn more about our SQL support.  
Multi-Core Scalability
Maintain performance by adding further resources as demands on the system increase. RDM supports any 32-bit and 62-bit hardware.
 Small Footprint
RDM is designed for small footprint environments. Developers can reduce the size to as low as 350K, depending on features and options selected.
Trusted by Leading Companies
"We needed an in-memory database solution that would be adaptable on our custom OS and potentially being scalable onto standard server platforms. Raima's was the only yet the best option we found."
Karol Rohrer,  Elvys s.r.o Executive Director
"We chose Raima for data storage because of its high performance and low-memory footprint."
Paul Fraley, Juniper Networks Software Manager
"Raima has a significant customer base, which is impressive and gives us confidence in the product."
 Chris Hunt, General Dynamics UK Ltd. Engineering IT Manager
"Mitsubishi has many applications in development that require the speed, reliability and flexibility that RDM provides. RDM will give us the flexibility to develop applications on any industrial device."
Chris Hazlewood, Strategic Alliance Manager Mitsubishi Electric Europe
"RDM was an easy selection because it offers all of the functionality we needed on our target platform. Raima has consistently exhibited exceptional cooperation to meet all of our business demands including providing source code for the database."
Boeing Spokesperson
"We chose Raima's RDM because it is mature, reliable, and designed for embedded applications. Additionally, our data relationships are complex and RDM is uniquely capable of modeling these relationships without compromising performance."
R&D Manager, Nokia
"Raima RDM has proven itself in meeting the stringent requirement of high data integrity. We have accomplished satisfying 100% data integrity even after some of the most brutal test scenarios."
Rodney Spruell, Adva Optical Networking
"We have been using RDM for many years embedded in our products – Raima is very stable and works just as intended."
Søren Aldenryd, Systematic Principal Product Manager
"We needed a database that could provide low-level API access for ultimate design control and to allow us to fine-tune performance, as well as a product that provided a standard SQL interface to meet our ease-of-use reporting expectations from our customers, Raima's database delivered perfectly on this requirement."
Devin Cole, Performance Solutions Engineering Manager, Metso Automation USA
RDM has provided us the data reliability and security required to be able to deliver successful products into the financial industry.
Lucie Johnson – Vice President of Engineering at ImageScan