London, March 12, 2014
Raima had a successful attendance at Embedded World 2014, with delegates showing great interest in the latest release of RDM version 12.0, and in particular in the integration of Raima's RDM Embedded technology directly into National Instruments LabVIEW software.
We talked to visitors from across the globe and from all sectors of industry, but we found lots of commonality in their areas of interest, addressing issues such as the reliability of electronic systems, distributed intelligence, the internet of things, and solutions for e-mobility and energy efficiency. We also discovered that many visitors are still storing data in a flat file. This is a typical way of storing data in many of todays embedded applications and the visitors at the show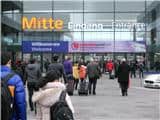 explained how this is beginning to cause a big problem. As more and more systems are storing data, there are just too many log files for a flat file system to cope with efficiently! A large number of visitors wanted to move away from the collection of log files and use a solution that can collect this data in a more structured and meaningful way. The visitors discovered that the Raima Database Manager is an excellent solution that not only provides reliable data collection but allows preprocessing of the data actually on the embedded device itself before sending the most relevant data to other systems for further analysis or long term historical data storage.
Embedded database technology has a key role to play in addressing all of these issues, but the data management systems have to be reliable, flexible and scalable – and they have to be fast, seamless and tightly integrated. With RDM Embedded, we were able to show visitors solutions for all of these issues, and we had a lot of interest and made some excellent new contacts.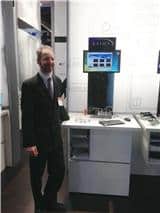 A highlight of the stand was a demonstration of real-time sensor data acquisition, using the new Raima Database API in LabVIEW on the new NI cRIO-9068 system to store power quality measurements that adhere to industry standards. Paired with core measurements (temperature, sound, power level, and light intensity), this power quality analysis can be used to synchronize data and correlate the dynamic behavior of an entire system. The demo was of great interest to visitors looking for solutions for monitoring the quality of power being provided to their devices, with typical industry applications including power production, smart grid system development, wind turbine monitoring, and other industrial systems.
We have a strategic relationship with National Instruments, to develop integrated technology that eliminates external database connectivity and communication headaches during programming, and which simplifies export to systems for run-time operation. At Embedded World we shared a stand with National Instruments, and we saw enormous visitor interest in our integrated database solution. The relationship brings important data management functionality to applications deployed on cRIO and sbRIO devices, with a set of intuitive and easy-to-use APIs callable from within LabVIEW's familiar interface."
We also showcased the latest release of RDM version 12.0, providing even greater options for developers who are facing the challenge of ever increasing volumes of information. RDM Embedded 12.0 offers support for the latest versions of Wind River's VxWorks, QNX Neutrino and Green Hills Software's INTEGRITY, as well as Windows CE and Embedded Linux – platforms that are used by key industry leaders in areas such as the automotive, aerospace, defense, industrial automation, industrial safety, medical, secure mobile, security, telecom and networking markets.
With the introduction of RDM Embedded 12.0, system developers in these sectors can take full advantage of features such as support for multi-core processors, in-memory limitation, encryption, shared memory and a host of other high performance features.
For more information on RDM or to download the SDK for evaluation visit: raima.com/products