db_VISTA: Raima's Original DBMS
Raima introduced version 1.0 of db_VISTA in 1984, it is now called
Raima Database Manager (RDM)
. It was a single-user, high performance network model database management system with B-tree indexes for use with C language applications. Versions were available for several MS-DOS-based C compilers. A source code version complete with makefiles for Unix-based computers was also available. The db_VISTA DBMS was the first royalty-free,
network model DBMS
designed exclusively for use with C applications. There exists a number of applications in use that are still based on the original db_VISTA. Raima no longer uses the db_VISTA product name but renamed it to Raima Database Manager (RDM) in 1992.
If you have an old db_VISTA database from which you want to be able to extract the data, please contact Raima Professional Services to find out how we can help you do that.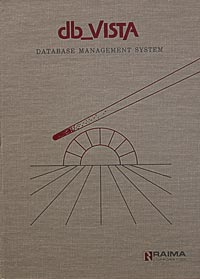 Two companion products for db_VISTA were introduced in 1986. Raima's db_QUERY introduced the first SQL-like query and report writing utility for a network model database system. Today, db_QUERY no longer exists. However, Raima does offer SQL in all its DBMS products.
Raima's db_REVISE is still included with the RDM product and is used to modify a database definition and make whatever revisions to the existing data that are necessary to accommodate the changes.
Check out the RDM online documentation. You will find that much has been added to the product capabilities over the years but you will also find that the original API is still supported, albeit with some argument differences. Thus, functions d_open, d_fillnew, d_keyfind, d_findfm, and so on are all still around. So, if you are a former db_VISTA user, please download a free evaluation copy of the latest RDM . It's kind of like finding a long lost friend on Facebook.