Raima在1984年推出了db_VISTA 1.0版,現在稱為
Raima數據庫管理器(RDM)
。它是具有B樹索引的單用戶高性能網絡模型數據庫管理系統,可與C語言應用程序一起使用。版本適用於幾種基於MS-DOS的C編譯器。還提供了用於基於Unix的計算機的帶有makefile的完整源代碼版本。 db_VISTA DBMS是第一個免版稅的,
網絡模型DBMS
designed exclusively for use with C applications. There exists a number of applications in use that are still based on the original db_VISTA. Raima no longer uses the db_VISTA product name but renamed it to Raima Database Manager (RDM) in 1992.
If you have an old db_VISTA database from which you want to be able to extract the data, please contact Raima Professional Services to find out how we can help you do that.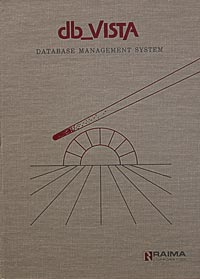 Two companion products for db_VISTA were introduced in 1986. Raima's db_QUERY introduced the first SQL-like query and report writing utility for a network model database system. Today, db_QUERY no longer exists. However, Raima does offer SQL in all its DBMS products.
Raima's db_REVISE is still included with the RDM product and is used to modify a database definition and make whatever revisions to the existing data that are necessary to accommodate the changes.
簽出 RDM在線文檔。多年來,您會發現產品功能已經添加了很多東西,但是您會發現仍然支持原始API,儘管存在一些參數差異。因此,函數d_open,d_fillnew,d_keyfind,d_findfm等仍然存在。因此,如果您以前是db_VISTA用戶,請 下載最新RDM的免費評估版 . It's kind of like finding a long lost friend on Facebook.