Raima RDM Embedded database selected for demanding new offshore applications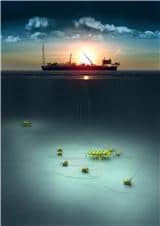 Aker Solutions, a leading provider of oilfield products, systems and services, has selected the RDM Embedded in-memory database from Raima as a core element of future generations of its offshore control technologies.
Aker Solutions is a world leader in providing subsea production control systems for the oil and gas industry. Since delivering its first subsea electro-hydraulic control system in 1975, the company has developed and deployed more than 1,500 systems worldwide, using state of the art technologies and an in-depth knowledge and experience of subsea systems.
Offshore oil and gas production is one of the world's most demanding engineering environments and companies like Aker Solutions are responding to those demands by creating increasingly sophisticated and intelligent products and control technologies. In turn, this rising sophistication is creating a growing need to store, manipulate and share data across networks of devices located on the seabed, on production platforms and onshore.
As part of the development of its architecture for future product generations Aker Solutions identified the need for a new database management system, and began a search that culminated in its selection of Raima's RDM Embedded.
"Aker Solutions needed a product with the performance to handle high volumes of data, compatibility with embedded and conventional systems, and a high degree of robustness to maintain data integrity in the offshore environment, where communication links may suffer disruption and interruption," explains Nigel Rozier, EMEA Sales Manager at Raima. "After testing numerous systems, we are proud to say that they chose RDM Embedded."
Released earlier this year, Raima Database Manager (RDM) is optimized for embedded, real-time, in memory and mobile applications, delivering flexible and reliable solutions for collecting and storing large volumes of data, providing intuitive methods for managing and navigating through information quickly, and enabling data to be moved in real-time. It provides software developers with a wide variety of powerful programming tools and customizable building blocks that enable them to solve the most complex data management  challenges.
Raima Chief Executive Officer Steinar Sande comments: "Through feedback from our clients and prospects we have extended the functionality, improved the performance and enhanced the ease of use of RDM. The new release is proving extremely popular and we are very pleased to be working with Aker Solutions."
About Aker Solutions
Aker Solutions provides oilfield products, systems and services for customers in the oil and gas industry worldwide. The company's knowledge and technologies span from reservoir to production and through the life of a field. Aker Solutions brings together engineering and technologies for oil and gas drilling, field development and production. The company employs approximately 28,000 people in more than 30 countries.
About Raima
Raima delivers high-performance, always on database technology for both in-memory database usage and persistent storage devices. Raima's core focus is to develop database management solutions for everything from small, embedded devices up to enterprise level hardware systems.
The Raima Database Manager (RDM) products are cross-platform, small footprint, fast and reliable database solutions which are made to collect, store, manage and move data. They are used worldwide in a wide range of data management solutions in industries such as industrial automation systems, military flight control systems, telecom routers & switches, financial trading systems, medical equipment, data backup solutions, consumer electronic devices and more.
All products feature solid and reliable ACID compliant database technology and employ a number of advanced solutions to meet today's complex data management challenges. Examples are moving data from small low-powered embedded devices up into larger enterprise systems, building highly-available database systems, database partitioning support to facilitate data distribution and scalability, and interfaces allowing access to the data from a range of external sources.
Raima Database Manager (RDM) products include options to meet a variety of data management architectural designs by providing a choice of data models and access methods to solve the most stringent performance requirements.
For more information on RDM or to download the SDK for evaluation visit: Product Overview.