當您可以開發自己的數據庫時,為什麼還要購買預建的數據庫?
There are many problems that can arise when you develop your own database storage engine. At first, it may seem simple to just store the information you need in a flat file and let it grow as you develop and use your application. Unfortunately, feature creep can easily cause complications to this design. Let's say that your application has been released and is currently being utilized by your customers. One common new requirement is now a need to use that same data store in the file for Business Intelligence purposes but there is no ability for this file to be loaded into any commercially available BI tools like Microsoft Excel, SAP Business Intelligence, Tableau, and others. In order to facilitate this, you need to now develop a way for these tools to connect to your internally developed system. You could contact that BI application developer and work with them to implement your database in their tool or you could spend time developing an industry standard connection interface like ODBC, JDBC or ADO.NET. Both of these options will require time and monetary investment, easily ballooning your initial costs and reducing or removing your cost savings by not using a commercial database like RDM.
當出於冗餘或吞吐量目的可能需要一次在多個位置提供數據時,會出現另一個常見問題。針對此問題創建健壯的複製或鏡像解決方案,無論是開發還是測試,都非常耗時。可能會出現許多問題,例如如何傳輸數據,連接斷開時會發生什麼,如何在實際複製/鏡像哪些數據時提供靈活性等。打包的產品已經完成了這項工作,並保證了這些功能,穩定性和配置選項。
We have built a tool that calculates the cost of building your own database management system (DBMS) – click the button below to calculate the cost of your project.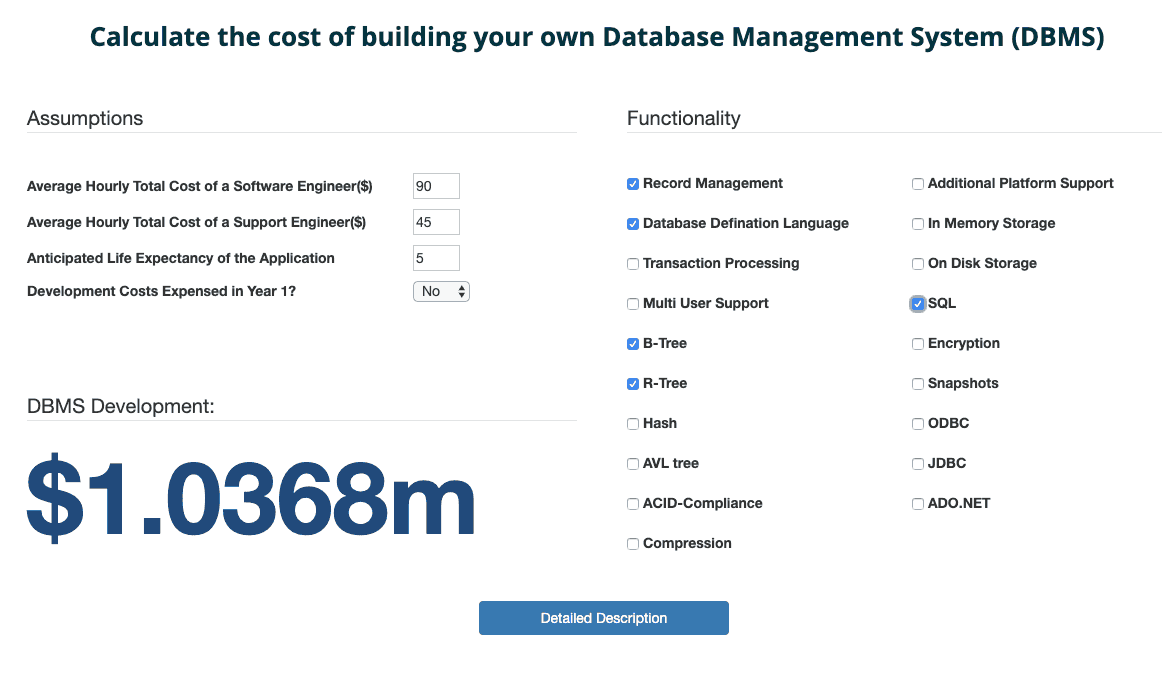 計算構建自己的DBMS的成本
去計算器