Database Technology
Raima Database Manager (RDM) is a cross-platform, small footprint, fast and reliable, persistent and in-memory database solution.
Designed for resource-constrained environments

Supports for in-memory, hybrid and persistent storage

Developed to fully utilize multi-core processors

Suitable for running on a wide variety of platforms

Multiple APIs and configurations provide developers a wide variety of powerful programming options and functionality
Manage Data across Platforms
RDM is platform independent and optimized for the most popular operating systems.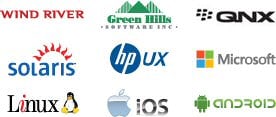 Video: What's New in RDM 14
The v14.0 release of Raima's RDM database solution continues to build on its foundational success as one of the world's leading database management systems. It has always been designed for speed but two features bring it to a whole new level, both the new database file format decreasing database size through variability and compression and a new fully optimized architecture for databases that reside in-memory.
Read More