RDM 14.0 Packages
RDM 14.0 comes in three different packages: RDM 14.0 Core, RDM 14.0 SQL and RDM 14.0 Enterprise.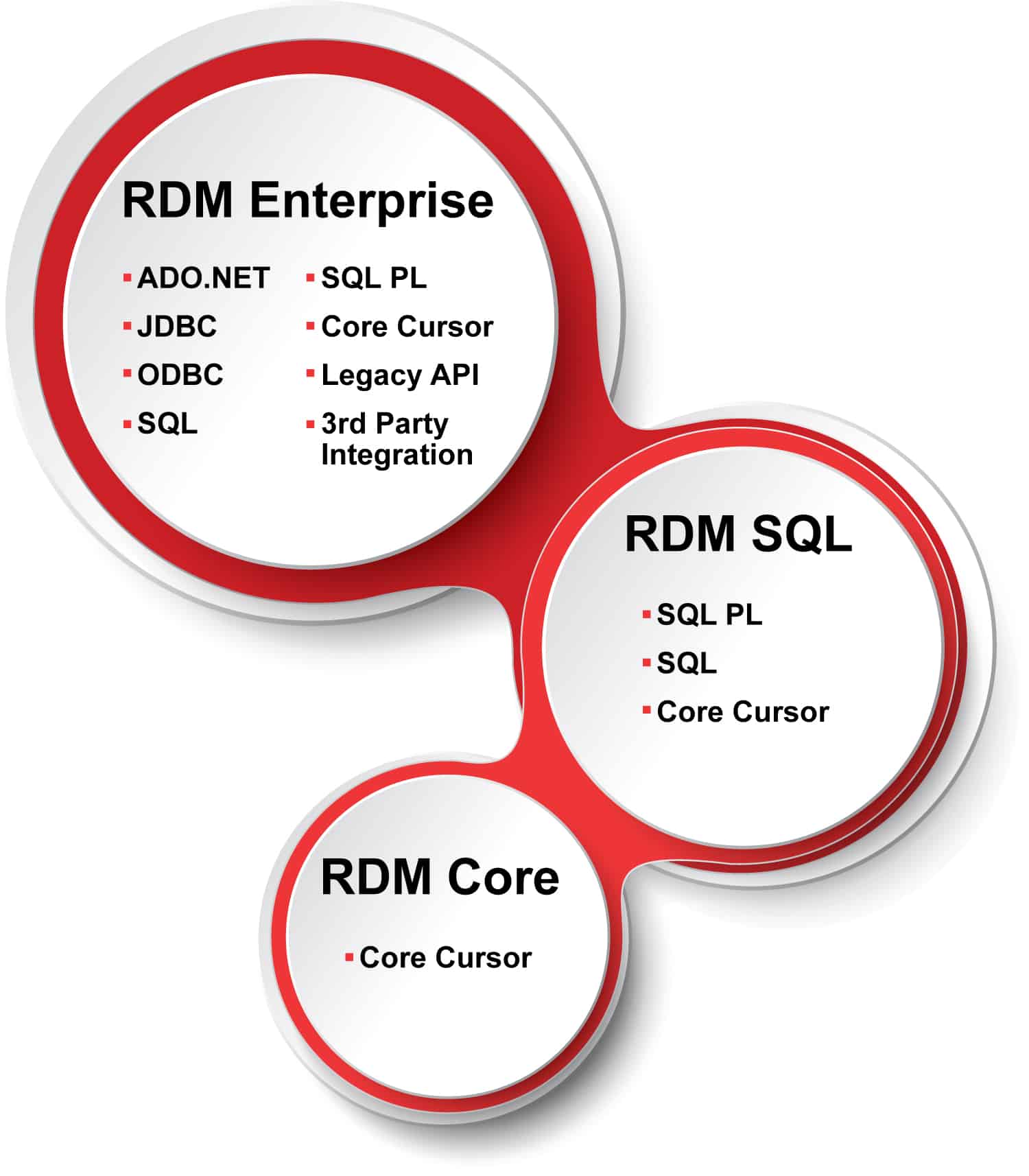 RDM 14.0 Core contains only the core cursor API interface. This is the underlying and most-optimized API designed for use with the C programming language.
RDM 14.0 SQL contains the core cursor API and also the SQL interface. This allows the developer to connect to an RDM 14.0 database system and perform powerful SQL queries against the data using the C programming language.
RDM 14.0 Enterprise contains both the core cursor API and the SQL interface in addition to all of the remaining APIs. This package allows for the use of the C# ADO.NET interface, the JAVA JDBC interface and the ODBC interface. It also has full support for third-party connectivity and administrative tools, in addition to supporting the full legacy API from previous versions of the RDM product line.
Products
Resources
Demos
Test in-memory, on-disk performance and other configurations within your app's environment! Each demo takes less than 5 minutes.
Go to Demo page
Evaluation SDKs
Over 40 free downloads are available on the Downloads page for evaluation of RDM on almost any platform you need.
Technology
What is under the covers of Raima's technical solutions? What is a database union? How does MVCC impact read performance?
Go to Technology Page
Videos
Raima's collection of informative and instructional videos are available on one page.
Go to Videos
Blog
Raima's Development and QA team occasionally add details about topics not found elsewhere.
Go to Blog page