Raima introduced Raima Database Server (RDS) in 1992. A year later it was renamed to "Velocis." That name lasted through the 1990s but was changed to RDM-Server im Jahr 2002. Viele C/C++-Anwendungsentwickler kennen es immer noch als Velocis.
When RDS was introduced by Raima in 1992, it was Raima's first full SQL client/server DBMS product. It was also the first DBMS to utilize Microsoft's new Open Database Connectivity (ODBC) SQL API as its native SQL API. It was also the first commercial DBMS to provide SQL access to a
Netzwerkmodelldatenbank
durch die create join-Anweisung.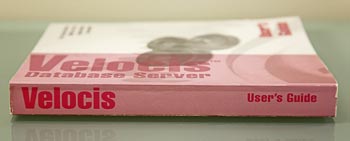 Wichtige architektonische Merkmale
Die wichtigsten Architekturmerkmale von Velocis sind nach wie vor Bestandteil von RDM Server. In den 1990er Jahren gab es eine Vielzahl von LAN-Protokollen im Einsatz. Um sie alle zu unterstützen, hat Raima in Velocis einen Multi-Network-Communication-Prozessor (MNCP) eingebaut, der mit jedem der Standardprotokolle (Netware, PC-Net, TCP/IP, Shared-Memory usw.) kommunizieren kann. Diese Funktion ist in RDM Server weiterhin verfügbar, jedoch machen die TCP/IP- und Shared-Memory-Protokolle den überwiegenden Teil der aktuellen Nutzung aus.
One of the key architecture's features of Velocis/RDM Server is the ability to place significant application-specific operations on the server itself using extension modules and SQL user-defined functions and procedures. This reduces the overhead associated with client/server communication. This ability to tightly integrate the application with the database server is at the heart of Raima's embedded DBMS philosophy.
The most significant feature added to Velocis since being renamed to RDM Server is dynamic DDL. The definition of a table can be changed to add new columns and new tables. Indices can also be added "on the fly" without having to take the database down and perform a time-consuming database revision.
Velocis/RDM Server ist vielleicht immer noch das am besten einbettbare, leistungsfähigste und ausgereifteste Client/Server-DBMS, das für die Anwendungsentwicklung verfügbar ist.
Get started with Raima Database Manager today
Try Raima Database Manager for free today and see how screaming fast data management can get you to market on schedule and under budget.