db_VISTA: Raimas Original-DBMS
Raima führte 1984 die Version 1.0 von db_VISTA ein, die jetzt heißt
Raima Database Manager (RDM)
. Es war ein Einzelbenutzer-Hochleistungs-Datenbankverwaltungssystem für Netzwerkmodelle mit B-Tree-Indizes zur Verwendung mit C-Sprachanwendungen. Für mehrere MS-DOS-basierte C-Compiler waren Versionen verfügbar. Eine Quellcode-Version mit Makefiles für Unix-basierte Computer war ebenfalls verfügbar. Das DBMS db_VISTA war das erste lizenzfreie DBMS.
Netzwerkmodell DBMS
designed exclusively for use with C applications. There exists a number of applications in use that are still based on the original db_VISTA. Raima no longer uses the db_VISTA product name but renamed it to Raima Database Manager (RDM) in 1992.
Unterstützung für db_VISTA
If you have an old db_VISTA database from which you want to be able to extract the data, please contact Raima Professional Services to find out how we can help you do that.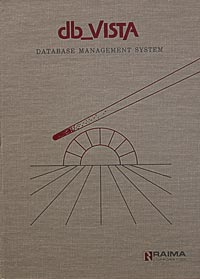 Two companion products for db_VISTA were introduced in 1986. Raima's db_QUERY introduced the first SQL-like query and report writing utility for a network model database system. Today, db_QUERY no longer exists. However, Raima does offer SQL in all its DBMS products.
Raima's db_REVISE is still included with the RDM product and is used to modify a database definition and make whatever revisions to the existing data that are necessary to accommodate the changes.
Probier das aus RDM Online-Dokumentation. Sie werden feststellen, dass im Laufe der Jahre viel zu den Produktfunktionen hinzugefügt wurde, aber Sie werden auch feststellen, dass die ursprüngliche API weiterhin unterstützt wird, wenn auch mit einigen Argumentationsunterschieden. Somit sind die Funktionen d_open, d_fillnew, d_keyfind, d_findfm usw. immer noch vorhanden. Wenn Sie ein ehemaliger db_VISTA-Benutzer sind, bitte Laden Sie eine kostenlose Testversion des neuesten RDM herunter . It's kind of like finding a long lost friend on Facebook.